Most fly fishing for snook is in the mangroves. The casting is fun requiring a side arm cast under the mangroves and pin point accuracy. The eats are explosive and then the fish needs to be stopped from going into the mangrove roots. Snook are one of the most fun fish on the fly!
Effective snook flies have to have good weed guards not so much for the weeds in the water but the mangroves the angler is trying to cast under. When the fly doesn't go under but into the mangroves a good weed guard will allow the angler to gently pull it out and let it plop into the water sometimes a fish eats it but at least the fly comes free without taking the boat in and spooking any lurking snook.
Snook are ambush predators. They'll cruise a shoreline looking to surprise a ball of bait or stay still in shallow water waiting for some small baitfish to swim by. When they eat they surge and crash, it's one of the most fun things and angler can do with a fly. Flies need to match the size of the available bait. They also need to suspend near the surface or float. The most popular snook fly we sell is the Backcountry Sweeper, it's great throughout Central America as well as in the pattern's native Everglades. The Rivet was also designed for the mangroves of the Everglades, far up in the Everglades there are often very small bait, that's what the #2 Rivet is for but the larger Rivet is good everywhere. The first Simple Pimp we tied was originally tested in the Everglades winning over a skeptical captain in just a couple hours. Snook love surface flies too. Our poppers (Weed Walker and Wake-n-Shake) are great fun on snook as well as the Boehm's Gurgler.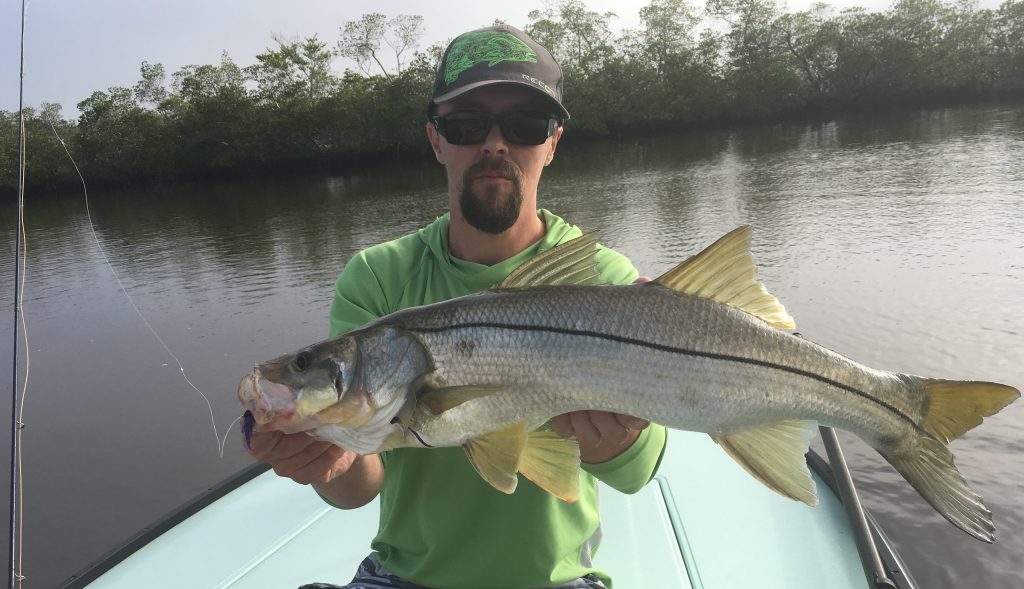 In Florida, on the Gulf Coast, snook hunt along the beaches for small baitfish in the surf. These fish are exposed, moving and spooky an angler needs to stay out of sight in a place where there is way to hide. Learning the tides, light and location of this game takes time. The fly choice for this fisher is easy though the D.T. Special. We've worked up all kinds of custom patterns for beach snook for local anglers but they always come back to the D.T.'s.
When anglers think of Central American fly fishing bonefish and permit are the focus. There's also tarpon fishing in much of the area. But there are snook everywhere! Boehm's Gurglers, Backcountry Sweepers and Simple Pimps will give anglers enough choice to make these fish come out to play.