Redfish are opportunist feeders, if they are munching grass shrimp and a pin fish shows swims by they'll eat it. Fly choice is typically a little less matching the hatch then making sure the redfish sees the fly. Flies need to get down in front of redfish so most of them are weighted. There are times when redfish are looking up, poppers are really fun when this happens. In general bigger weighted bait fish flies are used for redfish in Louisiana. In the Southeast crab and shrimp patterns are better. Most redfish in the Keys are caught on crab flies but that might be because anglers have bonefish and permit in mind and a redfish swims by. Small bait fish and shrimp flies are good from the Everglades up the Gulf Coast.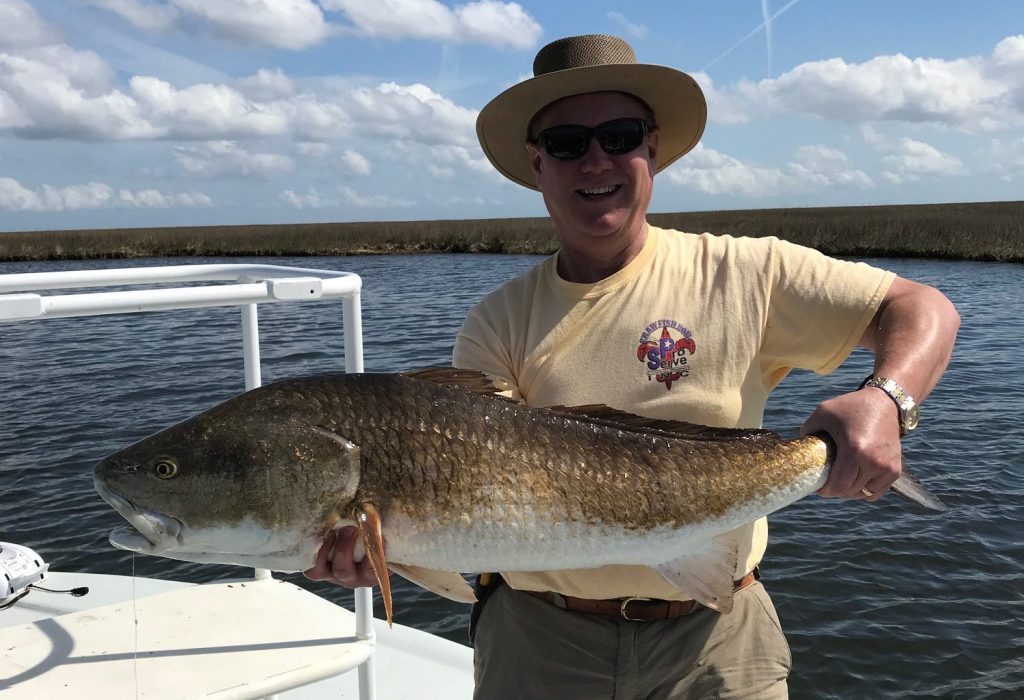 Louisiana is the most well know redfishing destination.  Generally big flies are great for the Louisiana marshes, flies like Dinah-moe Drum and Willy the Pimp.  Large crab flies can also be great.  At times in Louisiana poppers or gurglers work really well.  When redfish are tuned into top water the fishing gets really fun, they will miss and circle back, miss again and finally eat.   Also in Louisiana the Woolly Toad, Lunch Lady and Simple Pimp are also effective.

The Electric Chicken and black and purple crabs (black S.S. Merkin) are local patterns from the southeast Atlantic coast: North and South Carolina Georgia and northwestern Florida. Most of the fly fishing in the Southeast is in the marshes where the juvenile fish patrol marshes. The forage there primarily consists of various shrimp species and crabs. Other effective flies are the Woolly Toad, I.P. Bone and Ugly Bug.
Redfish have become an additional target species in the Florida Keys in recent years.  Most of those fish are caught on crabs although other flies work.  It's just that most captains and anglers are going to have a crab fly on in case a permit or bonefish swims by.  The rest of costal Florida can be a great redfishing.  Much of the Atlantic coast fish like the rest of the Southeast with more of an emphasis on the Woolly Toad and S.S. Merkin.  In the Everglades the Woolly Toad rules but those redfish will eat Simple Pimps (a GREAT snook fly) and Rivets.  The Saint Alfonzo is a local redfish pattern in the Upper Keys and Everglades.   In the mangroves of Charlotte Harbor St. Alfonzo, Ugly Bug, Wooly Toad and S.S. Merkin are great flies.