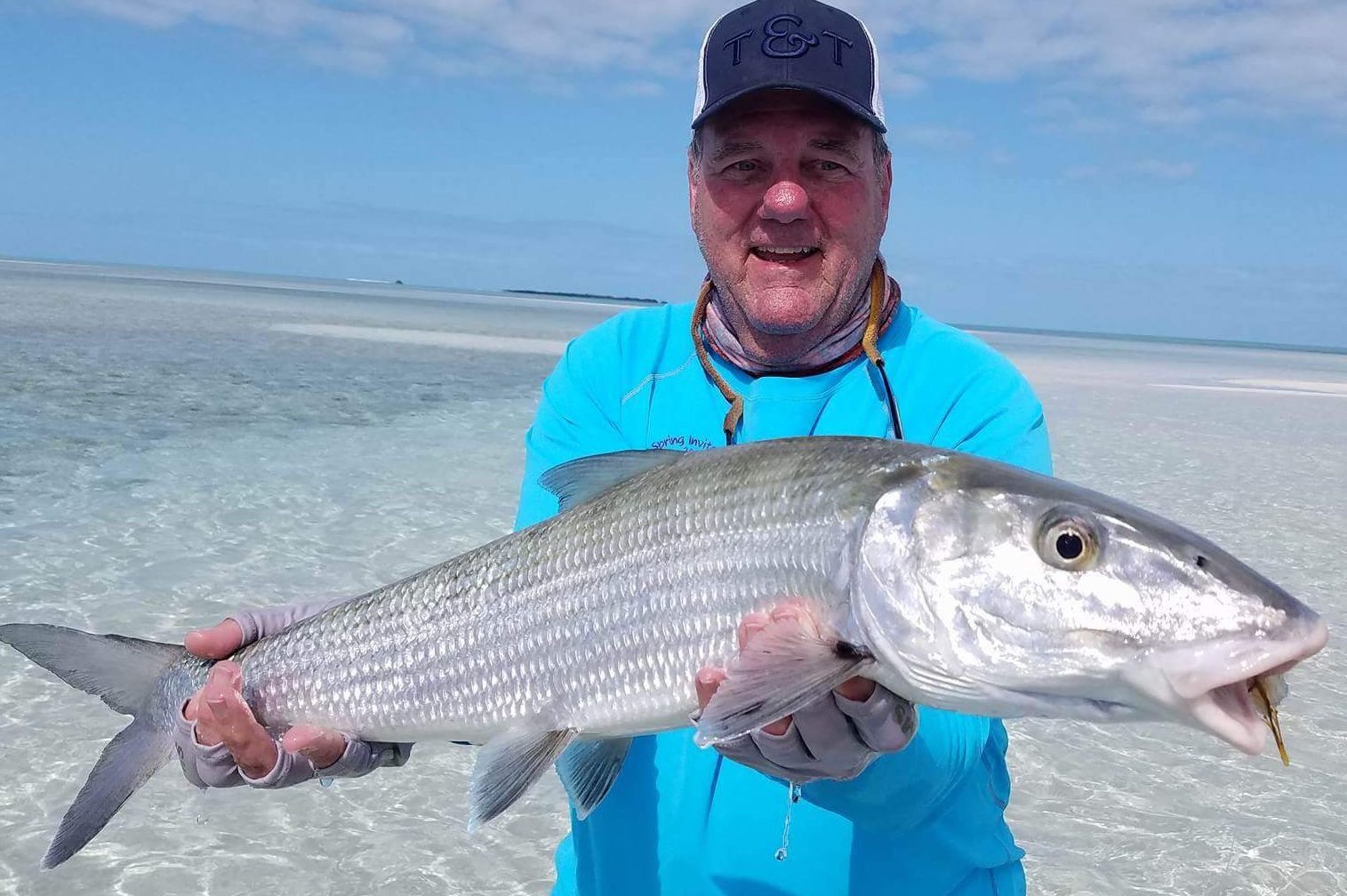 Bonefish are many angler's introduction to saltwater fly fishing. The Bahamas have all kinds of bonefishing. From Acklands to Abaco and west to Andros there are unknowable numbers of populated bonefish flats. Most bones in the Bahamas are moderate sized, six pounders are nice fish, impressive double digit fish are always possible if hard to feed. Belize is another popular bonefish destination. Most of the fish in this part of Central America are pretty small, a couple pounds. They travel in schools and are known to eat flies with abandon. Belize is a great place to be introduced to fly fishing for bonefish. There is also very good bonefishing along the Yucatan Peninsula in Mexico. Of course the Florida Keys is great place to chase bones. For years Islamorada was the bonefish capital of the world, in recent years the better bonefishing has often been further west, big bones patrol the flats from Marathon to Key West.
Generally recommendations for bonefish flies emphasize smaller sizes, #6 being the most common. There is a great emphasis on soft landing flies for bonefish, the size six recommendation often has as much to do with the pursuit of stealth rather than matching the bait. Over the years we have come to recommend larger flies, #4 being the most common.
Large flies seem to catch more and bigger bones. When tied carefully the larger flies land just as gently as one size smaller but are a bigger morsel for fish to focus on. Some of our most committed bonefish anglers fish their go-to patterns in size 2! These experienced anglers have caught plenty of small bones, they enjoy the challenge of feeding big fish cruising the flats. Big bonefish often hunt the flats on their own or with a couple other fish. They are spooky and don't travel a long distance for a small snack. These bigger flies show up better and inspire fish to eat. Even when fishing over schools of bonefish big flies are effective. Little bonefish on the edge of a school will pick off the quick snacks but when there's a big meal served up the largest bones in the middle get aggressive bursting out of the school to feast.
Belize is an exception to the rule. The bait there is small, the fish aren't big and importantly, the flats are shallow with deep turtle grass leaving just a few inches to a foot of water to fish the fly in. Size 6 and 8 flies are the ticket. All bonefish flies for Belize need weed guards.
Bonefish eat everything on the flats often feeding opportunistically. Various shrimp species, crabs and baitfish make up the bulk of their diet. If a school of bonefish are snatching grass shrimp and a big crab scuttles along the bottom a bonefish will eat it! Shrimp patterns like the Peterson's Spawning Shrimp, Super Sim Ram, and the Missing Link are patterns that every bonefish angler should carry no matter where they are fishing. Nearly every lodge recommends Crazy Charlies (Cree Charlies at S.S. Flies) and Foxy Gotchas. Crab flies are very successful on the bonefish flats but not as commonly fished. Nearly all the S.S. Flies captain's fish crabs for bonefish, pics of big bones sent to us often sucked up a Permit Crab. In fact if there was one fly an angler should always have on any saltwater flat anywhere in the world is a tan #1 Permit Crab, everything eats it.
Bonefishing requires a certain skill set but they are more cooperative than permit (most fish are) and often travel in schools so an errant cast can still result in a bonefish eating a fly. Certainly casting is an important skill to get bonefish on a fly. If an angler can consistently turn a fly over casting sixty feet into a 15 mph wind they will do well. Unlike both tarpon and permit the strip of a bonefish fly is relatively straight forward. Quick short strips usually work, but if the fish aren't eating most often the fly just needs to be stripped faster.